Red Wheelbarrow Student Edition, 2020!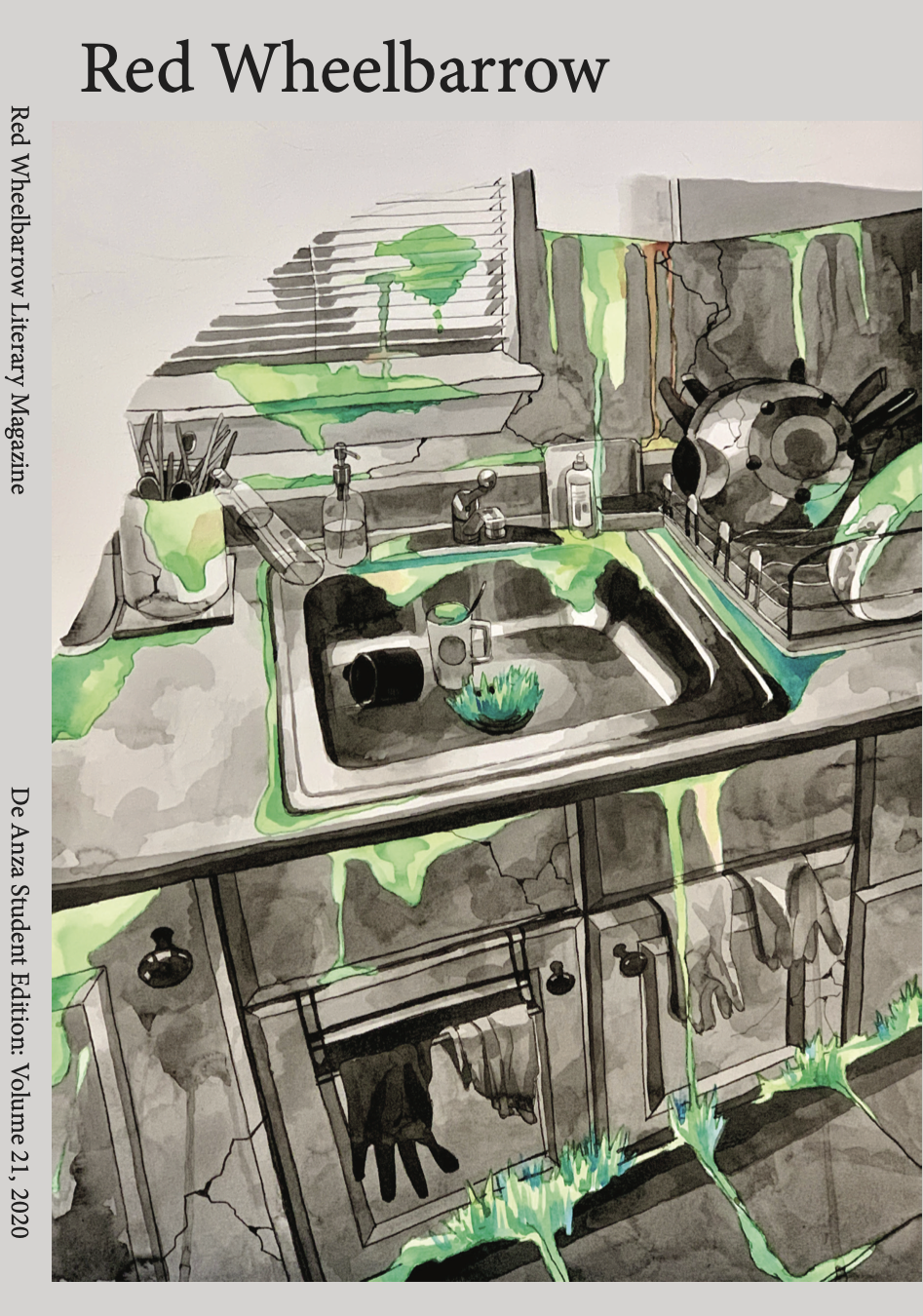 Red Wheelbarrow Student Edition is an annual student-edited literary magazine published each spring by De Anza student editors showcasing the best fiction, creative non-fiction, poetry, art, and literary performance pieces produced by De Anza students during that academic year. Anyone who has taken a De Anza class during the current year is eligible to submit work. Submitted manuscripts are discussed and evaluated without editors knowing names of those submitting; editors are students in the EWRT 68A/AX "Literary Editing" course spring quarter. Here below is this year's "clickable" table of contents; any blue links will lead you to the red wheelbarrow YouTube Channel to hear the author read their piece to you, or to a visual representation of the piece of some other sort. The journal is also attached here as a 190 page (!) downloadable PDF. Enjoy the PDF for free or get a print version on campus as soon as the campus reopens from either the Language Arts Division office (for contributor's copies) or the De Anza Bookstore (for anyone who wants one, $12).
HOW TO VIEW FILE and see the facing pages as if it were a real book—best to open in Acrobat:
Download the attached PDF file of the 2020 Student edition from this website—to your desktop or other device
Open ACROBAT. (you can do this in Preview or other applications as well; it works best in Acrobat).
Choose "Open" in file menu and open this downloaded PDF of the 2020 student magazine<
Go to VIEW drop down menu and go to PAGE DISPLAY
Toggle "two page view" in Page display.
Toggle "Show Cover Page in Two Page View" as well.
NOW—you will be able to see the file as if it were the actual book—with the facing pages correctly oriented :-)
You can also browse the Red Wheelbarrow YouTube Channel. —The channel will be fully ready for view starting at the Launch (June 24th, 6:00 PM)
Please do come to our Zoom Launch on the evening of June 24th between 6:00 and 8:00 PM to meet the authors, see the art, and hear the work read aloud :-). Annual Red Wheelbarrow prizes will be awarded. RSVP to weisnerken@fhda.edu
NOTE: For the Red Wheelbarrow National Edition & general submission guidelines & prize information, go here!
Red Wheelbarrow Student Edition, 2020
Clickable Table of Contents Here Below: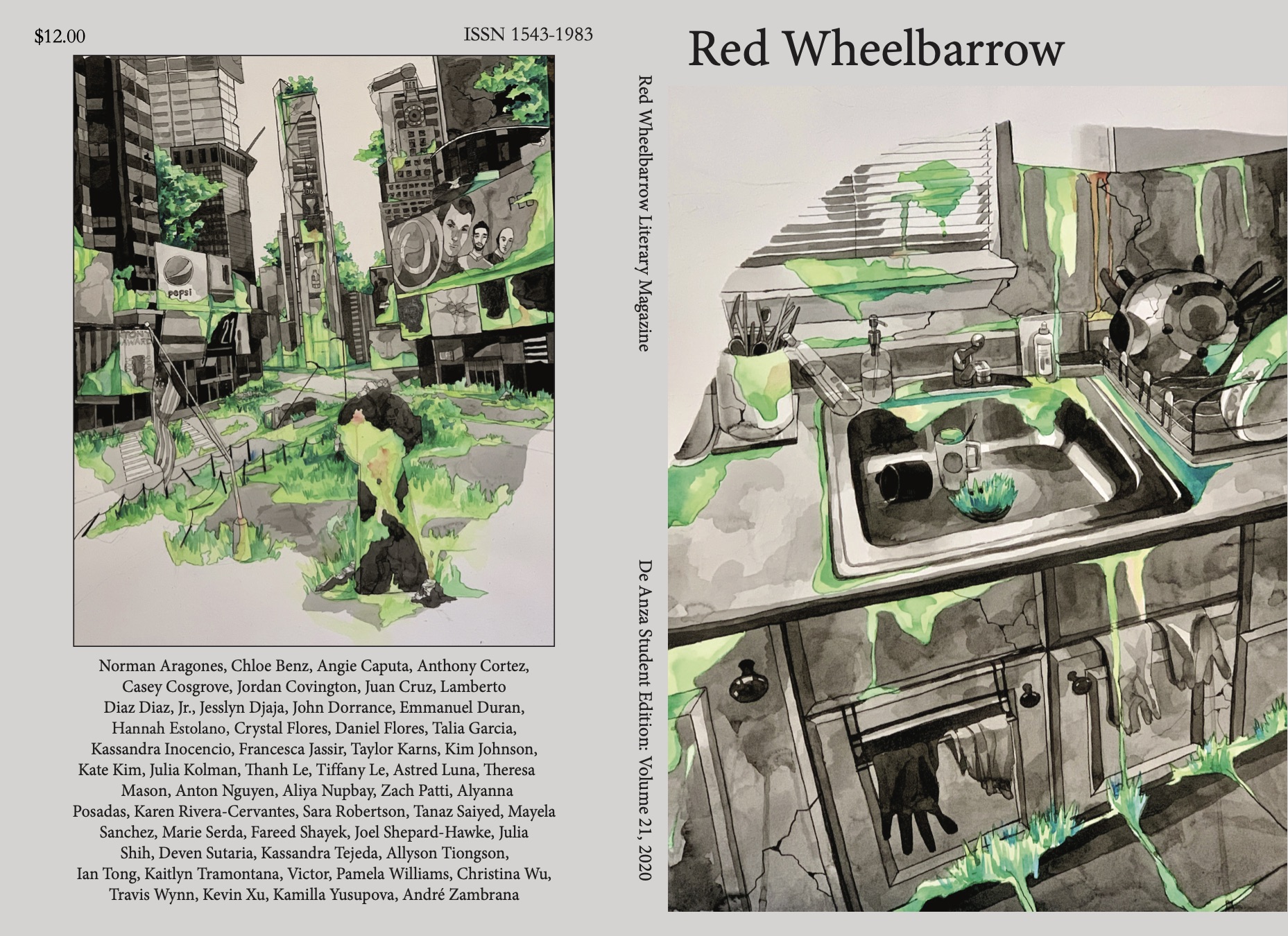 Cover Art
Front Cover art: Christina Wu, "Civilization v Nature Series, I"
Back Cover art: Christina Wu, "Civilization v Nature Series, III"
Frontispiece: Alyanna Posadas, "Nobody Was Prepared"
Contents
Poetry & Prose
Pamela Williams | Veils 8
Norman Aragones | Growing Up 9
Thanh Le | The Big Boy 10
Julia Shih | america the day it went cold turkey off prozac 11
Crystal Flores | America in Chains 13
Anthony Cortez | Work 14
Fareed Shayek | Afghan Rugs 15
Fareed Shayek | Sometimes I Wish I Could 16
Tiffany Le | Melodious Nocturne 18
Daniel Flores | Bliss 19
Jordan Covington | Lottery Ticket 20
Interview Feature:
Community Voices after the Murder of George Floyd | Kassandra Tejeda 23
Allyson Tiongson | Bloodlines/Blood Trails 39
Kassandra Tejeda | The Last Good Day 40
Astred Luna | Draft Saved - [Subject: Empty] 42
Talia Garcia | This Kind of Love! 43
Astred Luna | Eurydice Does Not Exit 49
Julia Shih | The Boy I Lost to Dream 50
Pamela Williams | Dressing Room 52
Pamela Williams | Lullaby 54
Kassandra Tejeda | SNOW WHITE IS DEAD 55
Kim Johnson | Social Media Influencer Barbie 56
Art Folio I
Christina Wu | Civilization v. Nature Series II 61
Thanh Le | #NOtoViolenceagainstWOMEN 62
Francesca Jassir | Palenquera 63
Angie Caputa | Shared Space 64
Chloe Benz | Anne 65
Alyanna Posadas | Restless Waters 66
Alyanna Posadas | Distorted Reality 67
Travis Wynn | Working Life I 68
Travis Wynn | Working Life II 69
Norman Aragones | The Coronavirus Pandemic Comic 70
Francesca Jassir | Untitled 72
Poetry & Prose
Joel Shephard-Hawke | When an Angel Falls 73
Taylor Karns | Poe's Monologue 79
Kate Kim | Hollywood Scars 80
Crystal Flores | Hourglass 82
Crystal Flores | Survivor 83
Kassandra Tejeda | You Wake Up Every Morning Shaking 84
John Dorrance | Damned Muse (art) 85
Art Folio II
Kamilla Yusupova | Embrace Yourself 92
Kamilla Yusupova | Calm and Quiet 93
Anton Nguyen | Point and Shoot 96
Norman Aragones | Family Portrait 97
Anton Nguyen | Life Source 98
Anton Nguyen | Corporate Care 99
Alyanna Posadas | I Belong 100
Poetry & Prose
Karen Rivera-Cervantes | The never ending fight against my status 101
Norman Aragones | Grandmother Praying 105
Astred Luna | Alive 106
Julia Kolman | To F.–My Light, My Love 111
Pamela Williams | Eighteen-Sixty 116
Kaitlyn Tramontana | Mining for Murder 117
Astred Luna | Hunger 127
Mayela Sanchez | It's About Time 128
Pamela Williams | Years and Years 132
Theresa Mason | from Memoir 133
Aliya Nupbay | Falcon's Wings 139
Victor | Kid of a Cop 142
Kassandra Tejeda | She looks so peaceful when she sleeps 144
Kaitlyn Tramontana | Liberation 145
Julia Shih | Wednesday Morning 146
Kamilla Yusupova | In a Garbage 157
Kim Johnson | Blues in the Key of Hummingbirds 158
Kevin Xu | Denial 160
Tanaz Saiyed | Information Society 162
Art Folio III
Alyanna Posadas | A Typical Day 163
Ian Tong | Irithyll 164
Ian Tong | Mermaid 165
Casey Cosgrove | Character Sheet 166
André Zambrana | Colliding Dimensions 167
Thanh Le | Chasing the Horizon 168
Fareed Shayek | The New Judy Lin 169
Kassandra Tejeda | Galvanic Corrosion 175
Jesslyn Djaja | Running 177
Lamberto Diaz Diaz, Jr. | Elegy for My Sanctuary 181
Zach Patti | from The High School 182

Winner, 2020 Jim Luotto Prize for the Literary Essay
Hannah Estolano | Double-Helix, Double-Consciousness: Character Doubles in "Fatherland" 186
Kinetic Sculptures, YouTube Channel:
Editors
Mariah Casas
Gloria Delgado
Crystal Flores
Kimberly Johnson
Aliya Nupbay
Zachary Patti
Irving Sanchez
Fareed Shayek
Kassandra Tejeda
Annmarie Truong
Annie Vu
Michael Wallerius
Faculty Advisor