Excellence Awards for 2019-20
The winners of this year's League for Innovation Excellence Awards are all familiar faces on De Anza's campus, with well-deserved reputations for going out of their way to support students, help others and make the college a better place.

Winners of the John and Suanne Roueche Excellence Awards were honored this week at the annual conference of the League for Innovation in the Community College, held this year in Seattle. The awards recognize outstanding contributions in teaching, leadership and service.
Please congratulate this year's winners, and click or scroll down to learn more about them.
---

Yvette Campbell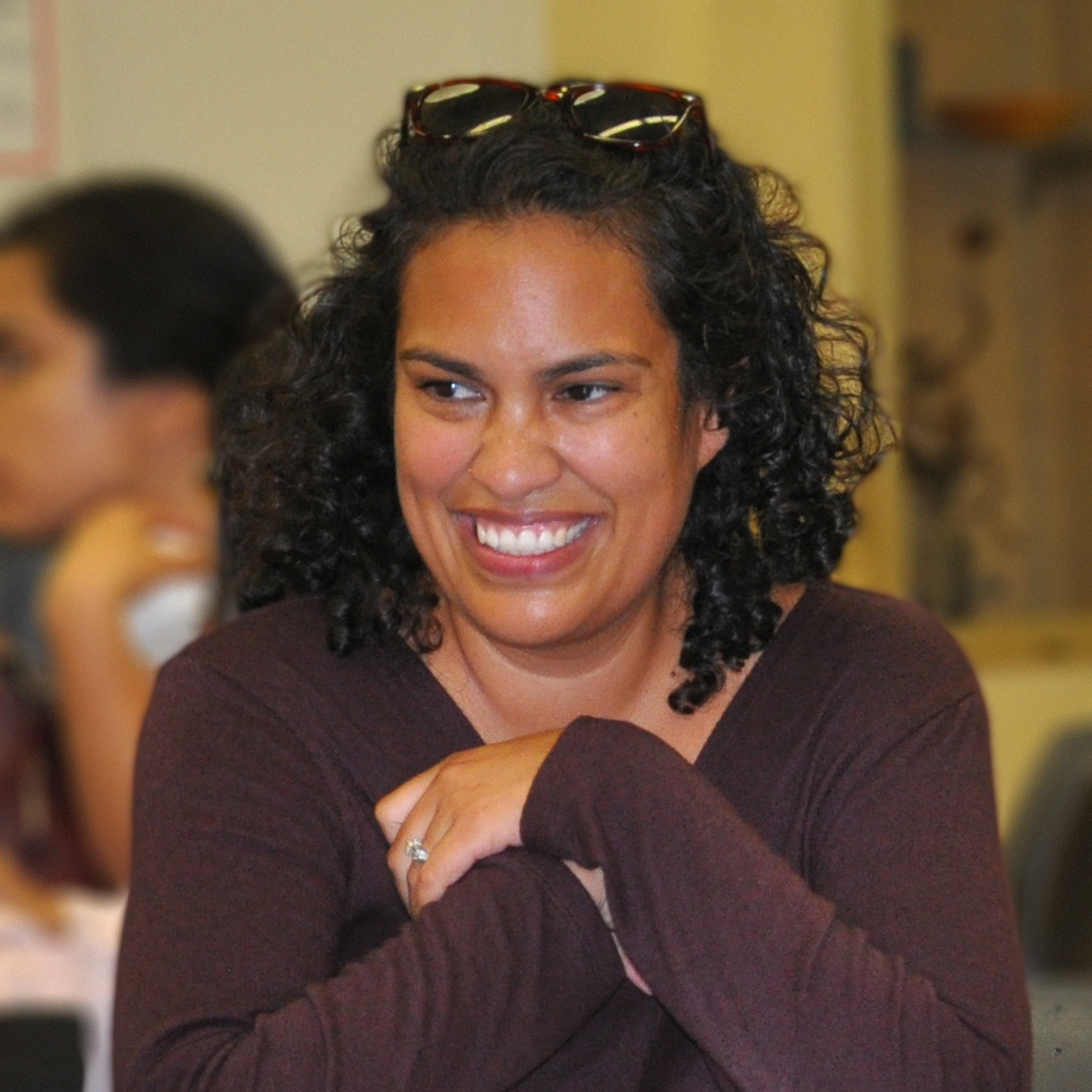 Yvette Campbell has been director of De Anza's STEM Success Program for four years. In that role, she oversees the highly regarded Math Performance Success program, which supports 350 to 500 students each quarter by embedding counselors in designated math courses, providing additional instruction time and offering extensive peer tutoring.
MPS has won national recognition for its demonstrated results, which include higher overall success rates and significantly improved success rates for students from historically underserved populations. During Campbell's tenure, De Anza was awarded a $1.3 million Basic Skills Student Outcomes Transformation grant from the California Community Colleges Chancellor's Office to expand MPS and a $1.9 million Innovation for Higher Education grant to launch MPS STEM Jumpstart, which supports students from underrepresented populations in the precalculus series of courses.
Campbell is an adviser to Latinas in Bio, a campus organization that she started for women who are pursuing degrees in biology. She's also an adviser to the Job Fair Club and MEChA, or Movimiento Estudiantil Chicano de Aztlán, a club for Latinx students.
When she has free time, Campbell likes going to farmers' markets and spending time with her family. She also enjoys scuba diving and playing volleyball, although she's had less time for those activities in recent years. Campbell earned her bachelor's and master's degrees in biology at San Francisco State University and her doctorate in biology from the University of California, Santa Cruz.
---

Mehrdad Khosravi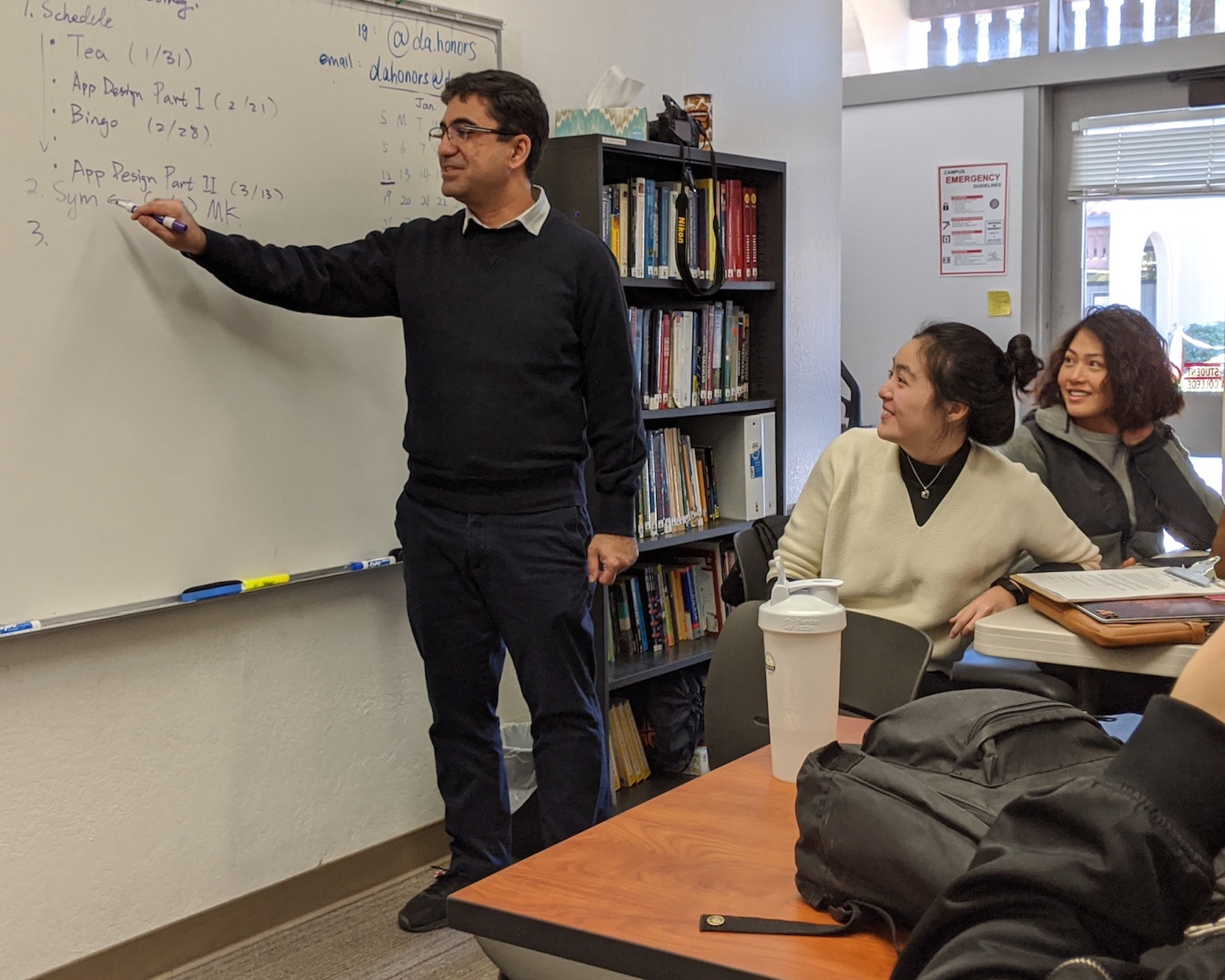 Mehrdad Khosravi has been a De Anza math instructor for 11 years and coordinator of the Honors Program since 2013. As chair of the Mathematics Department, he has played an important role in a sweeping, state-mandated overhaul of De Anza's placement policies, designed to help more students succeed in transfer-level Math and English.
In that effort, the Math and English departments created new support courses and sequences for students who are now being placed directly into college-level math and English, on the basis of their high school transcripts. Faculty members from each department also developed a new Guided Self-Placement tool for students who didn't attend U.S. high schools.
As coordinator of the Honors Program, Khosravi helped lead a project to update the honors curriculum for more than 80 courses in a variety of disciplines. He expanded the program to encourage student participation in community service. He has also been the faculty adviser for De Anza's chapter of Phi Theta Kappa, the international honor society for community college students, and adviser to the Iranian Student Association.
During his 11 years at De Anza, Khosravi has served on a number of committees for curriculum, tenure and hiring. This year, he joined the Faculty Association Executive Council.
Khosravi, who earned his doctorate in mathematics from the University of Central Florida, said he doesn't have a lot of free time for hobbies, but he enjoys fixing things.
---

Heidi King
Heidi King has held several positions at De Anza since she was initially hired as a technology training specialist in 1998. She's now an instructional designer for Online Education and president-elect of the Classified Senate.
King has also worked in temporary positions as a technical specialist, administrative assistant and senior library technician.
In her current job, King helped develop OnlineU, a six-month course designed to support faculty members who are new to online teaching. The course introduces instructors to new teaching tools, while encouraging them to share ideas and collaborate with colleagues in developing interactive online curricula.
As a Classified Senate leader, King helped launch the workshop series called "ClassiFridays," which offers classified professionals a variety of opportunities to hone their technology and leadership skills.
King has also served on the college Technology Committee. She earned her bachelor's degree in technical communications – a self-designed major that combined technical writing and educational technology – at San José State University.
When asked about her hobbies, King said she tries "not to go crazy" while overseeing a "mini-farm" that includes two dogs, a cat, two rabbits and six chickens on a 6,000-square-foot lot. She also enjoys spending time with her family, including three teenage boys.
---

Tina Lockwood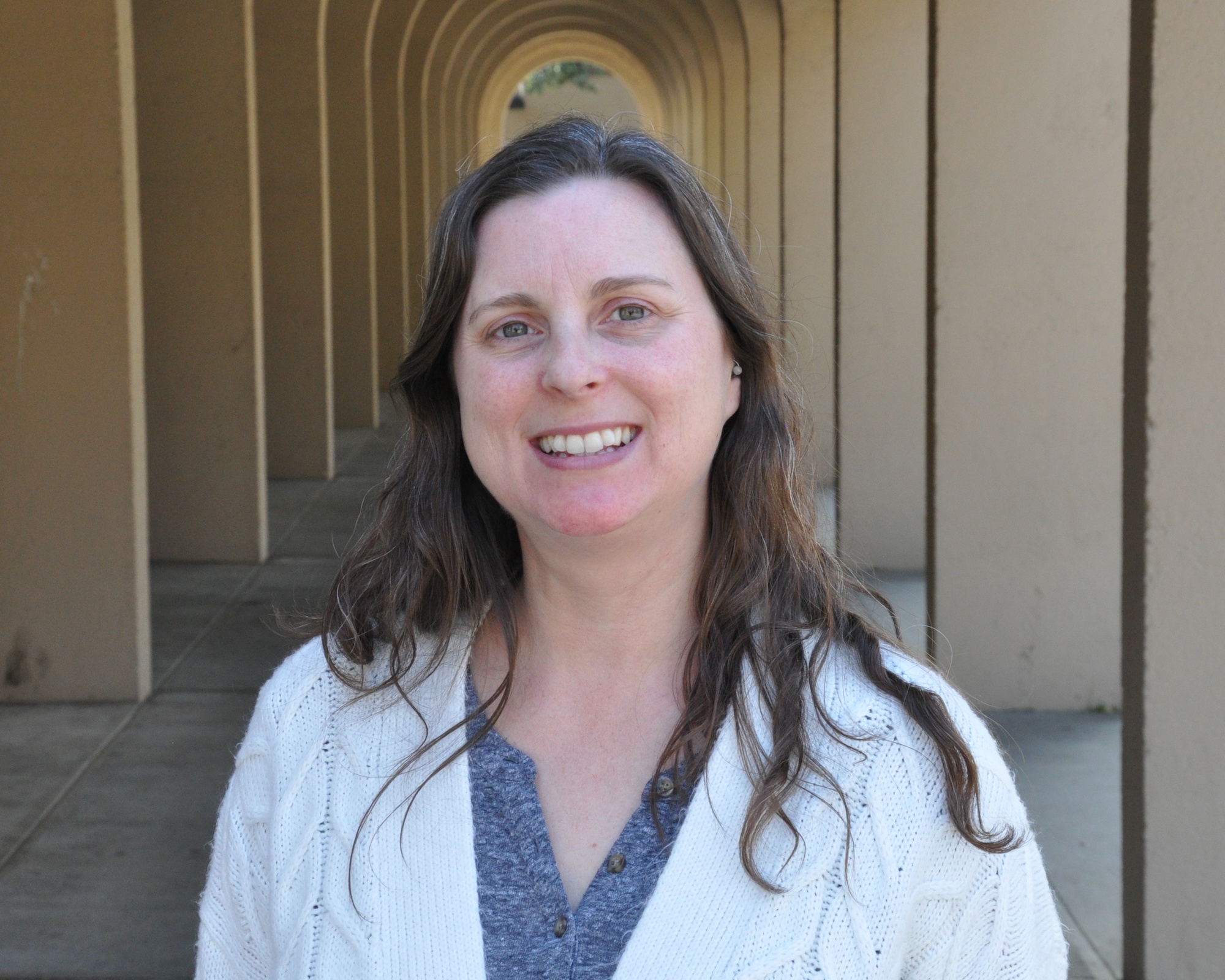 Many people on campus have come to know Tina Lockwood as the helpful, "go-to" person when they need new furniture or other equipment to do their jobs. But her role goes far beyond fielding requests for a new desk or chair.
As the Furniture, Fixtures and Equipment Coordinator in College Operations, Lockwood helps identify and prioritize campus needs, while developing multiyear plans and budgets for installing millions of dollars' worth of educational equipment.
She also helps assess whether campus facilities meet accessibility requirements, and coordinates work by a variety of college and district employees as well as outside contractors.
Last year, Lockwood helped several student services programs – including the Office of Outreach, Veteran Services and others – move into new or redesigned workspaces. She oversaw the creation of new lactation rooms for students and faculty members who are new mothers. She also overhauled the program that provides specialized furniture to accommodate students with disabilities.
Lockwood is a De Anza alum who graduated in 2000. Outside work, she enjoys spending time with family and friends and exploring the outdoors. She and her husband have traveled to 16 national parks; they hope to eventually visit all 62.
---

Mary Pape
Whenever there's an important committee or governance project at De Anza, chances are that Mary Pape is involved.
Pape, who came to the campus as a part-time instructor in 1981, was hired full-time in fall 1998 and now chairs the Computer Information Systems Department. She's also the Student Learning Outcomes coordinator for instructional programs at the college. She said that position led to her interest in campus governance; she's now vice president of the Academic Senate, co-chair of the Instructional Planning and Budget Team, co-president of the Foothill-De Anza district Academic Senate and co-chair of De Anza's Technology Committee.
As part of her work on the Technology Committee, Pape helps identify and prioritize campus technology needs. It's a subject she knows well: As chair of the CIS Department, she led an effort to adopt hybrid teaching – combining classroom and online instruction – when the program moved temporarily from the Advanced Technology Center to limited space in the Media Learning Center in 2012.
The CIS department continued to offer hybrid classes after it moved back to the AT building, which Pape says helped to accommodate growing demand from students. The department has seen a 90% increase in the number of CIS sections offered over the last six years.
Pape earned her bachelor's degree in mathematics at Santa Clara University and a master's in Math at San José State University. She also has an MBA in financial management from Capella University. In her spare time, she's an automotive enthusiast, an avid ice skater and enjoys learning about new technology.