Overview
Honoring Sandra Diaz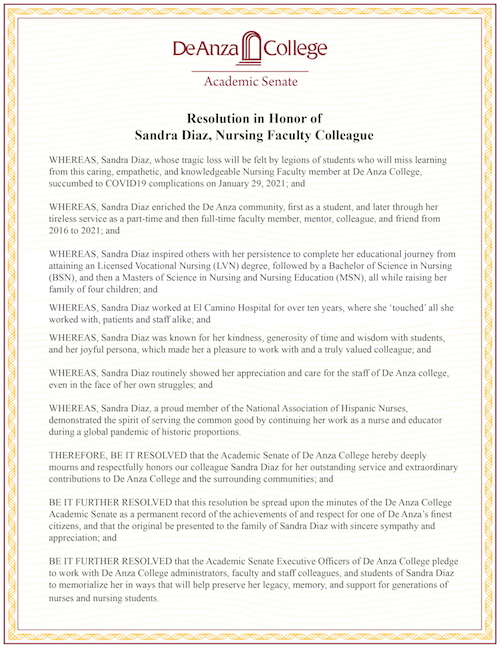 The Academic Senate Executive Committee has approved a resolution honoring our Nursing faculty colleague, Sandra Diaz, who died of COVID-19 complications on Jan. 29.
Sandra enriched the De Anza community, first as a student, and later through her tireless service as a part-time and then full-time faculty member, mentor, colleague and friend from 2016 to 2021. The resolution honors her outstanding service and contributions to De Anza College and the surrounding communities.
About the Academic Senate
The Academic Senate is represented by all full-time and part-time members of the De Anza faculty and Foothill-De Anza Board of Trustees in promoting the quality of community college education. This site provides information about the decisions of committee, current members of the Senate, and developing academic and professional potential.
The Academic Senate includes all faculty members. Division senators and officers comprise the Executive Committee, which meets Mondays 2:30-4:30 p.m. in Adm 109. Starting on March 13, 2020, when the Foothill De Anza Community College District closed its campuses due to COVID19, the Academic Senate has been meeting online via Zoom. Please go to Academic Senate Meetings to see the agenda with the Zoom access links.
We stand in solidarity with Black Lives Matter.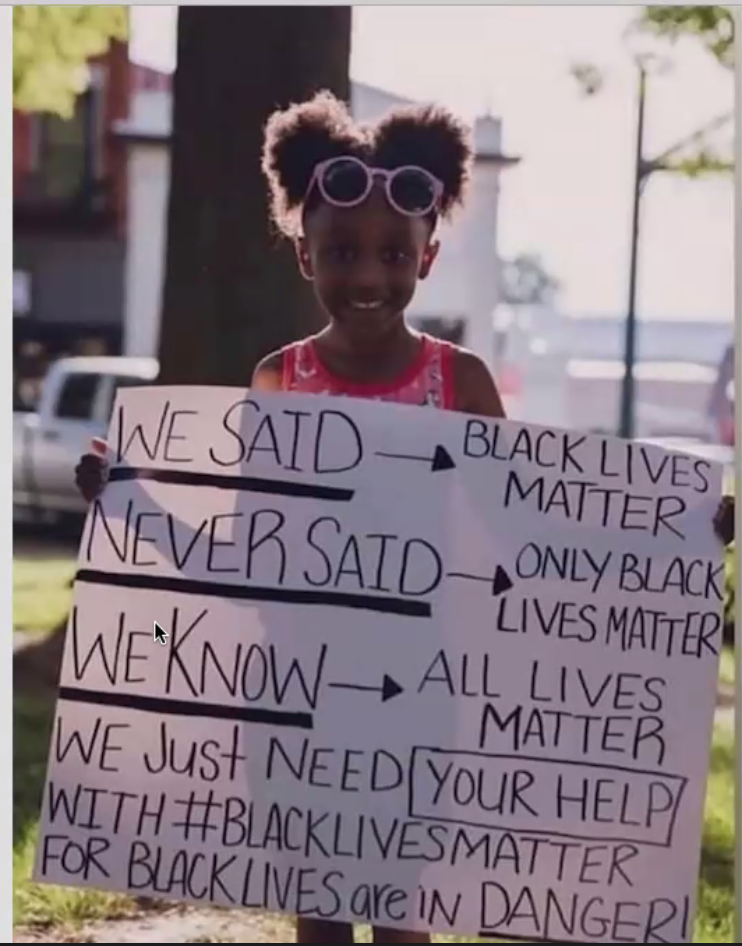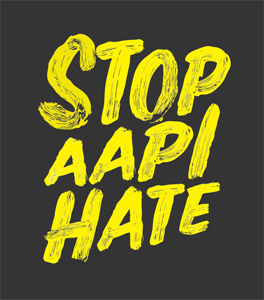 Resolution To Denounce Anti-Asian American Pacific Islander (AAPI) racism (passed March 15, 2021)
NOTE: Due to COVID19 Closed Campus, Academic Senate meetings are being conducted via ZOOM until further notice/update:
This Monday's Academic Senate Meeting will be available for you to participate in via Confer Zoom. Per Governor Newsom's emergency order for COVID19 sheltering in place, holding this meeting in Confer Zoom satisfies Brown Act requirements requiring a publicly accessible meeting location.
If you wish to join any of our Academic Senate Office Hours, Academic Senate Meetings, and Faculty Fridays via Zoom, CLICK ON THE MEETING ON THE CHART BELOW TO OPEN THE ZOOM.
Voting for any Motions made during the meeting will be done via the Chat feature of ConferZoom, and we will explain how that will work at the start of our meeting.
Senate Officers' Office Hours, ADM 117:
---
Needs & Confirmations
Needs & Confirmations-Updated 4/1/2021
Confirmations from Fall 2018 through Summer 2020 including Tenure Review Committees, Hiring Committees and Other Committees. There is also a tab for all confirmation alphabetized by last name
FAQ from Public Comment Agenda Item - 6/3/2019
---
General Education Proposals Approved
The periodic review of General Education has been concluded and has resulted in the approval of a new Philosophy of General Education statement, new Criteria for General Education Course qualifying, and a new Environmental Sustainability and Global Citizenship general education requirement. The work of implementation has now been taken over by a new ad hoc committee. See an Academic Senate officer for details.
---
Primary duties of the Academic Senate
The Academic Senate's purpose is to solidify standards regarding admission, curriculum, degrees, and faculty responsibilities to improve De Anza.
The Board of Trustees relies primarily on the Academic Senate to develop curriculum, including establishing prerequisites and placing courses within disciplines. The Senate sets:
Degree and certificate, general education and program specific requirements
Grading policies
Standards regarding student preparation and success
Policies for faculty professional development activities
---
Jointly shared duties of the Academic Senate
The Board of Trustees relies jointly on the Academic Senate for development of:
Degree and certificate requirements, including units required for completion
Educational program development
Governance structures as related to faculty roles
Faculty involvement in accreditation
Policies for program review
Processes for institutional planning and budget development
Other academic and professional matters as mutually agreed upon between the board and the Academic Senate
---
Faculty Hiring
Faculty Search Committee Selection Process- Explains the selection process for serving on faculty hiring committees at De Anza College and the role of the Academic Senate in this process.
Process for Requesting Confirmation and Appointment of Faculty to Search Committees, Tenure Committees, and Shared Governance Committees
FHDA District FT faculty employment policy and hiring procedures