An Unparalleled Opportunity
De Anza College provides an academically rich, multicultural learning environment that challenges students of every background to develop their intellect, character and abilities; to realize their goals; and to be socially responsible leaders in their communities, the nation and the world.
– from the De Anza College mission statement
---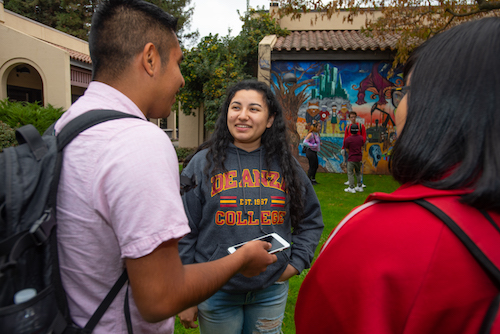 ---
With an outstanding reputation for academic excellence and innovative student services, De Anza College is an institution that has deep roots in Silicon Valley, and a broad reach that extends around the world.
The college is located on 112 acres in Cupertino, CA, south of San Francisco. The area has been shaped by global influences including the high-tech industry, venture capital and diverse communities of immigrants from around the globe. It is a paradoxical region of immense economic growth and opportunity on one hand and poverty and exclusion on the other. De Anza College stands as an important regional hub for educating students who come from marginalized communities and for helping address the social problems of exclusion, housing insecurity and income inequality that increasingly affect the lives of our students and surrounding communities.
De Anza has flourished and grown since its founding in 1967, adding state-of-the art buildings, labs and other facilities made possible by community-supported bond measures in 1999 and 2006. The measures were sponsored by the Foothill-De Anza Community College District, which includes De Anza and Foothill College.
Currently serving almost 30,000 students annually, De Anza is known for consistently ranking at or near the top statewide in community college student transfers to public and private universities. In recent years, this reputation for being "Tops in Transfer" has attracted students from communities within and outside the college's geographic service area, including historically underrepresented neighborhoods of San José and other parts of the San Francisco Bay Area, and from more than 80 nations.
As the largest community college in Silicon Valley, De Anza is a vital educational, cultural, social and economic resource for the entire Bay Area.
Students at De Anza can choose from more than 70 academic degrees and 95 certificates in a wide array of disciplines.
With 950 full- and part-time instructors teaching in 11 academic divisions, the college offers approximately 1,700 courses in academic subjects such as creative arts, humanities, physical and life sciences, mathematics, liberal arts and intercultural/international studies, as well as career training in fields such as automotive and manufacturing technologies, film and television, computer information systems, nursing and medical technology.
Along with academic excellence, De Anza College is committed to student equity and student support. This begins with innovative outreach programs to assist and recruit high school students from historically underserved backgrounds. Once on campus, students have access to extensive support services, including peer tutoring and options for academic counseling through embedded counselors or an academic adviser assigned to a specific division or program, or through the General Counseling and Advising Center. A dozen Learning Communities provide supportive networks of classmates, instructors and advisers for students who share a common experience or interest – including first-generation college students, men of color, and more.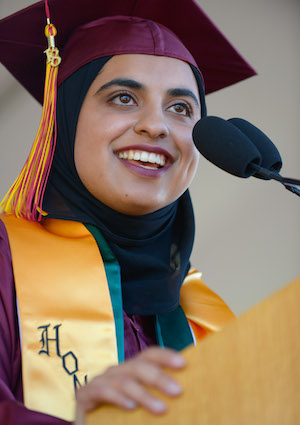 These programs and services are designed for a student body that is highly diverse in ethnicities, cultural backgrounds, gender identities and life experiences.
Almost half of De Anza students identify as Asian American, Filipinx or Pacific Islander, while 27% are Latinx and 4% are African American – one percentage point higher than the percentage of African American residents in Santa Clara County, where the college is based.
While a majority of students enroll directly after high school, a third are 24 years of age or older, and 12% already have a bachelor's or advanced academic degree. Many students balance jobs and family obligations with their studies, with 43% attending De Anza full-time.
Research at De Anza and other institutions has shown that student success improves when faculty and staff diversity is aligned with that of the student body. Amost half of De Anza's tenured and tenure-track faculty members are nonwhite: 22% are Asian, 14% are Latinx, almost 7% are African American and 2% describe themselves as multiethnic. The pool of adjunct faculty members, which represents a larger proportion of the college's teaching force, is less diverse than the full-time faculty, while the ranks of educational administrators and classified professionals are more diverse.
This diversity creates a vibrant atmosphere on campus. Students are active in 17 intercollegiate athletics teams, 89 campus clubs under the leadership of the Inter Club Council, and an award-winning campus newspaper, La Voz . The 30 members of the De Anza Associated Student Body Senate participate in shared campus governance and – along with the college's student representative to the Foothill-De Anza Board of Trustees – advocate for student rights at the campus, district and state levels.
De Anza is committed to a robust and inclusive shared governance process in which administrators, faculty members, classified professionals and students are stakeholders. This includes collective bargaining groups; academic, classified and student senates; and the various committees and work groups that guide these entities.
The college's next president will play an important role in the district's efforts to increase student enrollment, align the college with statewide equity and student success initiatives, and lead innovative efforts to link students with opportunities for academic and economic advancement in the industries that have a presence in the region. In addition, the next president will be instrumental in launching a successful public-private partnership that will redevelop the site of the now-closed Flint Center for the Performing Arts on the De Anza campus. Potential site uses under consideration include housing and a flexible event space.
Along with the president of Foothill College and three vice chancellors, the president of De Anza College is a key member of the executive team led by district Chancellor Judy C. Miner. The chancellor is appointed by district trustees, who are elected by voters in the communities of Cupertino, Los Altos Hills, Mountain View, Palo Alto, Stanford, Sunnyvale and portions of San José, Santa Clara and Saratoga.
Both college presidents are voting members of the Foothill-De Anza Foundation board and work closely with the chancellor and the foundation to fundraise for college priorities. The foundation is among the largest nonprofit auxiliary organizations supporting California community colleges, with $44.4 million in total assets.
The Foothill-De Anza district is a founding member of the League for Innovation in the Community College and has continuously maintained its position on the league's board of directors. It is one of only two California districts represented on that board.
---
The college profile continues with these sections