A Beautiful and Vibrant Campus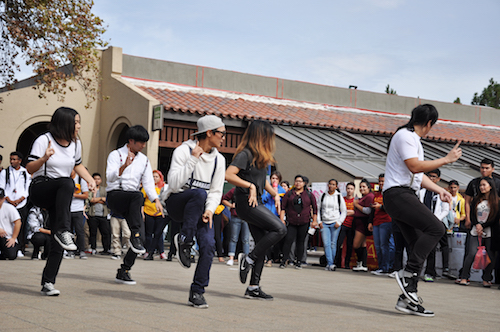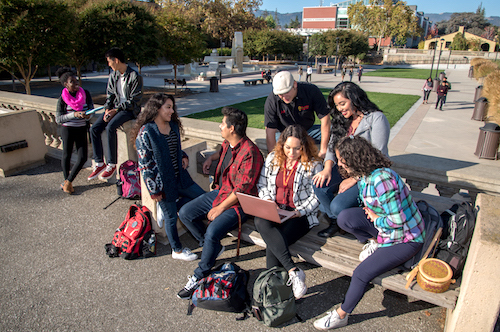 The college profile includes the following sections
A Beautiful and Vibrant Campus
---
On a typical day, the De Anza campus is buzzing with activity. But there are also quiet spots for outdoor study and contemplation, including natural gardens, peaceful fountains, outdoor murals and sculptures, scattered among the college's buildings and labs.
Over the past two decades, the campus has been expanded and upgraded extensively, thanks to community support for two major bond measures in 1999 and 2006. These provided funds for construction of new buildings and renovation of existing facilities, including technology upgrades in the library and numerous classrooms.
Additional projects included installation of solar energy arrays and restoration of two historic structures that date from the time when De Anza's campus was part of an agrarian estate. These are the old stone Baldwin Winery building, which now houses the Financial Aid Office and part-time faculty offices, and the 120-year-old Le Petit Trianon building, home to the California History Center.
Nine campus buildings have been certified as meeting national Leadership in Energy and Environmental Design (LEED) standards for environmental sustainability. Two of these – the Kirsch Center for Environmental Studies and the Media & Learning Center – have attained LEED Platinum status, the highest rating for an energy-efficient, green building.
The Kirsch Center was the first "green" demonstration building in the California community college system. Home to the Environmental Studies Department, it sits alongside the 1.5-acre Cheeseman Environmental Study Area, a lush natural garden and outdoor classroom containing more than 400 species of plants, which is used for research and study by the Environmental Studies and Biology departments.
De Anza also boasts a 5,000-seat stadium and a separate aquatics complex, with Olympic-size pool, that regularly hosts intercollegiate swimming and diving competitions.
Other campus landmarks include the De Anza Planetarium, one of the largest school facilities of its kind in the western United States, and the Visual & Performing Arts Center, which includes a 400-seat theater and the Euphrat Museum of Art. The latter is a campus and community resource that regularly hosts unique exhibitions of student and professional artwork, along with classes and other events.
Both the Planetarium and the Euphrat are overseen by De Anza's Community Education Division. The division also coordinates an extensive catalog of short-term, noncredit courses for adults, as well as the year-round De Anza College Academy, which provides enrichment and recreational classes for students in grades K-12. Through these programs, the division serves nearly 35,000 community residents each year.
---