Student-Centered Instruction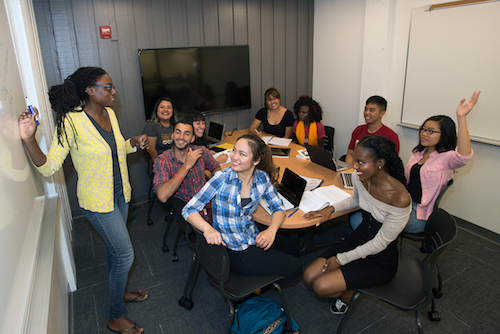 The college profile includes these sections
Student-Centered Instruction
---
De Anza College is an institution – and community – dedicated to providing innovative and effective instructional programs in a welcoming and supportive environment.
The college uses evidence-based best practices and a data-driven approach to planning, evaluating programs and allocating both financial and human resources. Every five years, through a shared governance process, De Anza develops an Educational Master Plan that includes institutional metrics for measuring progress on clearly defined goals for student success, including course completion, retention, transfer, equity, civic engagement and other priorities.
Each college program undergoes a rigorous annual review that draws on measurements of student achievement rates. Departments use an online data tool to examine their students' success rates by ethnicity, gender and other characteristics, including enrollment in special programs such as those serving students with disabilities or low incomes.
A key value, inherent in all of De Anza's planning efforts and instructional programs, is a campuswide commitment to student equity, including the closing of the achievement gap seen historically in lower success rates for African American, Latinx, Filipinx and Pacific Islander students, compared with other groups.
De Anza uses its annual review process and a formal Student Equity Plan to address this goal and measure progress in reducing disproportionate rates of enrollment, retention, course completion and other metrics.
Along with equity and accountability, De Anza has fostered an environment that encourages new and innovative approaches to instruction.
One example is the Vasconcellos Institute for Democracy in Action (VIDA), which promotes civic engagement by coordinating service learning opportunities for students to gain real-world experience with a variety of nonprofit organizations and campaigns.
De Anza also offers extensive academic support to all students, both face-to-face and online, through its Student Success Center. Support services include peer-led individual, drop-in and group tutoring. In addition, workshops are offered on student life, study skills, reading, writing and grammar, along with specific academic subjects such as math, science and business.
The college has moved to address another challenge faced by many students – the high cost of textbooks – through the faculty-led adoption of free and low-cost textbooks and other course materials. This effort has included an innovative partnership with the OpenStax project at Rice University. By recent estimate, more than 25,000 students have used open educational resources at De Anza, saving more than $2.5 million annually in textbook costs.
---