Transfer Day 2022 Highlights – Part 1
(You can see Part 2 on the Transfer Events webpage)
---
Here's What We Do
The Transfer Center helps students research their options and make plans for a smooth transition to a four-year university or other institution.
You can speak with a counselor or academic adviser by using the following options.
Appointments (In person and Zoom)
You can use our online scheduling tool to make an appointment for a counseling session.
If there are no appointments available, please check back, as new appointment times will become available every day.
You may also visit General Counseling and Retention Support Services for available appointments.

Drop-in Sessions (via Zoom)
Drop-in sessions are only 10-15 minutes and are meant for quick questions regarding academic, career, and transfer counseling and advising. These sessions are not meant for completing a comprehensive educational plan, personal counseling or financial aid extension.
Drop-in sessions are hosted by counselors and academic advisers. Counselors can assist with all topics. Academic advisers can assist with all topics except:
Academic Renewal Questions

TAA/TAG Information
---
Click the burgundy button to sign-up for Drop-in session using your student ID (also known as Campuswide ID, or CWID) and date of birth (MMDDYYYY)
Note: If the Drop-In option is greyed out, there is no availability during that time. Please check back later during the posted drop-in hours, or visit General Counseling and Retention Support Services for their drop-in hours.
Spring 2023 Transfer Center Drop-in Schedule
Mondays, 9:30 a.m.

–

11:30 a.m.

Tuesdays, 9 a.m.

–

10:30 a.m.

Wednesdays, 12:30 p.m.

–

2:00 p.m.

Thursdays, 12:00 p.m.

–1

:00 p.m.
*Drop-in Hours are subject to change*
Online Adviser
A counselor or academic adviser will review your question and respond through the online system. Questions should be brief and relate to general academic issues only.
For questions regarding these areas, please use the following links:
Updates and Opportunities
Be sure to check our Updates and Opportunities webpage for useful announcements and information about new opportunities to learn about transfer universities and requirements.
Grad Cap Decorating Event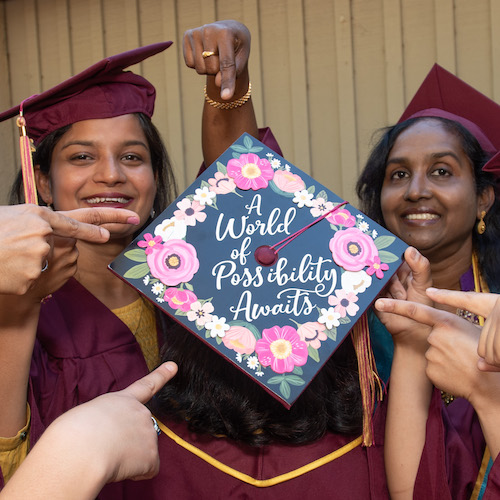 Want to have fun and get creative? Sign up for one of these sessions and bring your grad cap to the Second Floor of the RSS Building!
Art supplies will be provided, but space is limited – so be sure to sign up in advance.
Monday, June 12: 9 a.m. to Noon
Tuesday, June 13: 9 a.m. to Noon
Wednesday, June 14: Noon to 3 p.m.
Thursday, June 15: Noon to 3 p.m.
(By signing up, you are consenting to appear in photos or videos that may be published or posted online by De Anza College.)
Sponsored by EOPS, General Counseling and Advising, International Student Programs, the Transfer Center and the De Anza College Bookstore.
Transfer Tips Video
Get tips on planning for a successful transfer from this new video, part of our '80s-themed Video Help Series.
Before You Request Pass/No Pass
Some transfer universities have restrictions on accepting courses taken as Pass/No Pass.

We Can Help With
Appointments for in-depth transfer planning
Information about articulation agreements, guaranteed admission and impacted majors
Access and help with ASSIST.org
Meetings at De Anza with representatives from UC and CSU campuses, as well as private and out-of-state universities
Workshops and information sessions covering topics such as the online application process, steps to transfer, Transfer Admission Guarantees and UC Personal Insight Questions
Important Information
If you're applying this fall to transfer to UC or CSU, you should know there have been some technical issues with the launch of the redesigned statewide ASSIST website, which normally provides current information on transferable courses.
You can find more information about by visiting the ASSIST News page on De Anza's website.
For any questions, contact the Transfer Center.
Make the Most of Your Meeting
Before your meeting, make a list of questions that you want to ask.
Be sure you have any records that are relevant to the issues you want to discuss – such as your educational plan, placement information or test scores, or transcripts from other colleges.
 (For transcript evaluations, visit this Admissions webpage.)
Be on time!
If you can't make your appointment, PLEASE let us know: Use the online scheduling system to cancel or reschedule.
Upcoming Events
Check the Transfer Events page for more information on additional events.
More Resources
Visit these webpages for useful information to help you plan for a successful transfer.