3D Printing and Additive Manufacturing
Our begining 3D Printing class "DMT 53" will be offered this Fall starting Sept. 26th
Our courses are continuously evolving to keep pace with the rapidly expanding capabilities and uses for 3D printing and additive manufacturing. We work closely with local advisory committees, industry partners and government agencies to develop our curriculum. To that end DMT is currently involved in a new National Science Foundation grant to expand out advance manufacturing capabilities .
If you are interested in obtaining industry critical skills for designing your future take the below classes in sequense with some of our CAD classes to achive that goal. De Anza College will have a new 3D Printing Certificat in fall of 2021.
We have taught classes using 3D printing since 1996, when we integrated our first 3D systems printer into our advanced CAD Surfacing design classes. Students in all of our courses use professional grade equipment and are taught by industry experts. Our program has also recently become a Stratasys certified training institution.

Here's What You Can Learn
DMT 53: 3D Printing, Reverse Engineering and Rapid Prototyping
Course objectives
Understand 3D Printing technology and it uses in industry since its inception in the early 1980's
Learn the fundamentals of 3D Printing materials and applications
Grasp the operating principles, capabilities, and limitations of state-of-the-art 3D Printing methods
Understand the principles of "Design for Additive Manufacturing" and compare and contrast additive processes with conventional manufacturing
Understand Industrial grade and desktop 3D Printing machines and grasp the complete process
Realize applications of Additive Manufacturing and 3D Printing across major industries, products and understand the requirements and constraints of each through case studies
Realize the potential implications of 3D Printing technologies on product development and identify needs for new technologies to accelerate the advancement and impact of the new Rapid Prototype technologies
Place 3D Printing in the context of the evolving rapid prototyping and manufacturing infrastructure and there developments in industry
Explore the values and parameters of the major currently available technologies
Understanding the basics of industry level CAD modeling tools and how they are used to interface with 3D printers as a tool to produce output data
Overview of laser scanning as a tool for reverse engineering and how it might be used to design manufacturing models for use in a 3D Printer environment
DMT 54: 3D Printing/Additive Manufacturing – Theory and Practice
Course objectives
Recognize the advantages and limitations of 3D Printing and Additive Manufacturing technologies in developing new engineering systems and identifying emerging opportunities in developing products for mass customization products and processes
Explore design processing parameters for the Additive Manufacturing process solution chain with available systems and software
Utilize best practices in design intent and implement principles of "Design for Additive Manufacturing" or DFAM
Explain the principles of material selection options for AM design considerations and tensile strength, heat deflection and ISO certification considerations
Compare prototyping and product cycle considerations in the Additive Manufacturing process
DMT 56: AM Support Tech Operator
Stay tuned as we look to the future and develop more 3D Printing / Additive Manufacturing curriculum to meet the educational and training needs of this fast growing industry sector.
Forthcoming AM Certificate
DMT 57: DfAM
DfAM - Design for additive manufacturing (DfAM or DFAM)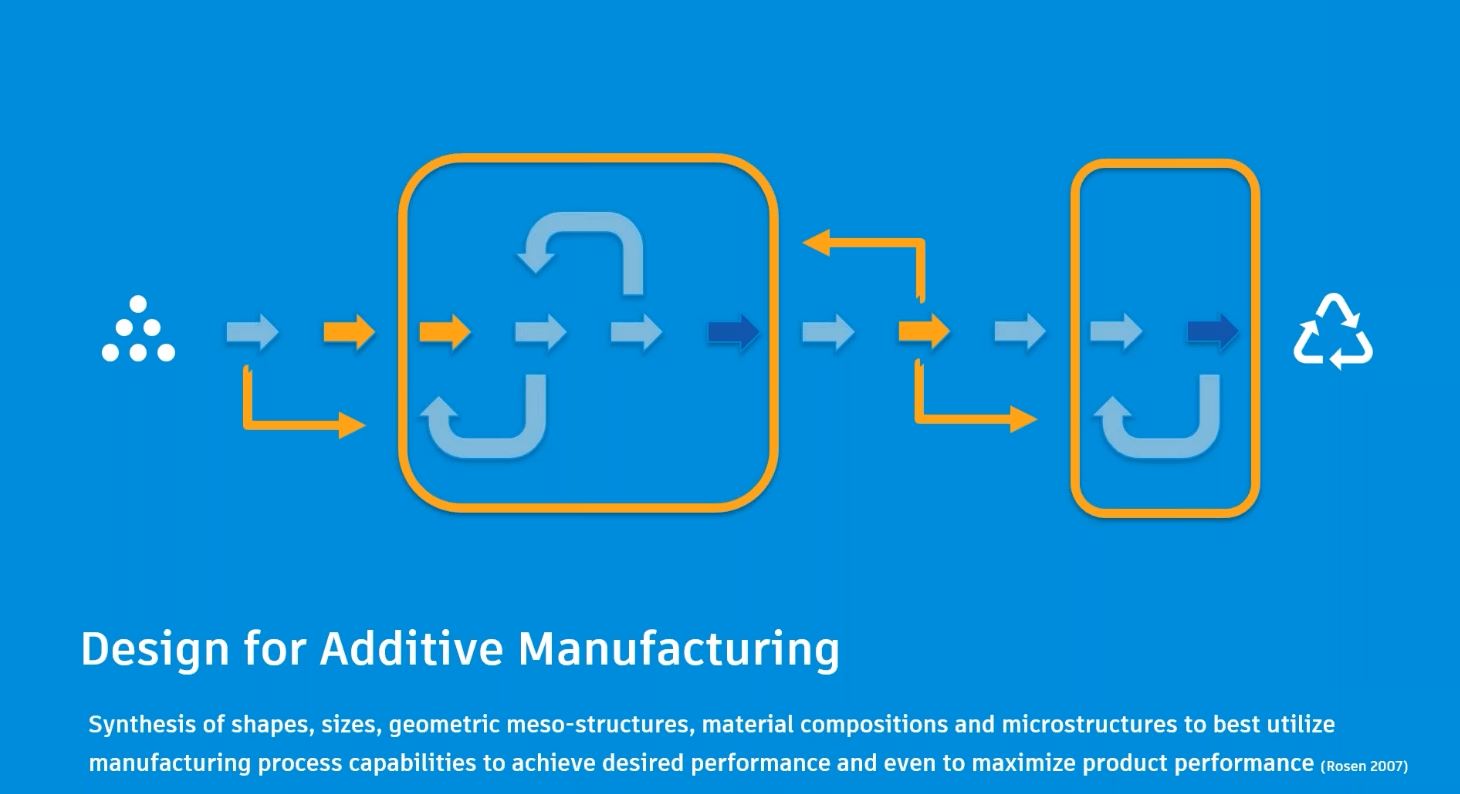 3D Printing Club at De Anza
---
Learn With the Latest Tools!
De Anza DMT students have the opportunity to work with the following equipment and software.
Additive Manufacturing Equipment
---
Professional Application Software
---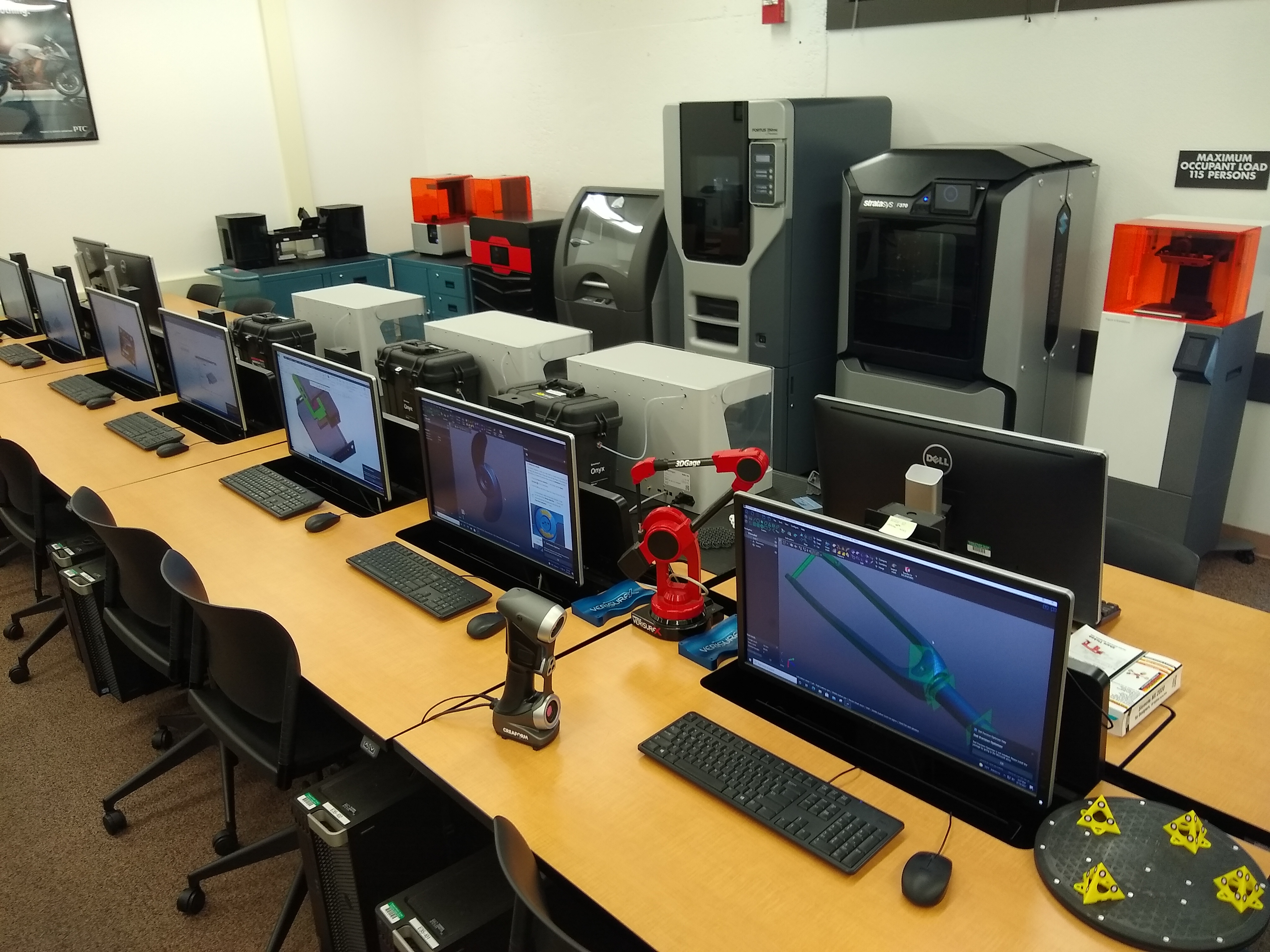 CAD &
3D Printing Class Rooms
& Labs now in
SC3103
in Building SC3.
Google Maps
---
Technology Focus
You're welcome to join our email list for information about classes and activities. Please send an email to cad@deanza.edu
Join us on LinkedIn