Fall classes start Sept. 21st, 2020
DMT CLASS SCHEDULE SUMMER 2020
DMT 53 - 3D Printing/AM (Intro)
DMT 54 - 3D Printing/AM (Design)
Offered Fall - Sept. 21st 2020: In Class & Online
Taught by industry experts
DMT 56 - AM Support Tech Operator
DMT 57 - DfAM
DMT 54 - description and synopsis:
3D Printing/Additive Manufacturing: Theory and Practice - 4 Units
DMT 54 will be an introduction to hands-on printing. Building on the foundational knowledge students have gained in DMT 53, the course will provide a unique opportunity to print parts on several platforms. We'll start with a review of the seven categories of Additive Manufacturing (AM) processes and then quickly move on to teaching you how to print on three of those seven technologies.

Students will select a model from a menu of six parts and will, over the course of the quarter, print that model on our Stratasys F370 (material extrusion), Form 2 (vat photopolymerization), and Objet 30 Pro (material jetting) machines. In the first of four course Technical Modules (TMs), you'll learn about working with STL files, the industry-standard format for 3D printing, and gain practical knowledge using Autodesk's Netfabb software. In three subsequent TMs, you'll learn how to use the proprietary pre-build software for each print platform. Working in groups of four, you'll prepare your group's four parts for an overnight print. After the print, you'll carry out the different post-processing steps for each printer to remove support material and obtain a finished part. At the end of the quarter, each student will have three instances or builds of his or her model, one from each printer. The models have been chosen to highlight strengths and weaknesses of each of the three AM technologies, and in a final project you'll carry out quantitative and qualitative comparisons of the three, determining which would work best for a specific hypothetical use case. Along the way, lectures will teach both the hands-on knowledge you'll need to successfully print in class as well as delve into practical knowledge of the three AM technologies.
About prerequisite & objectives
The DMT Department's courses in Additive Manufacturing are designed as a sequence, the objective of which is to prepare students for success in competing for and performing in jobs in the AM industry. As such, the sequence is progressive: students are expected to transfer their knowledge from previous courses to their work in courses further down the sequence. This is the reason why DMT53 is a prerequisite for DMT54. Specifically, we expect that, coming into DMT54, the student will understand and recall specific information taught in DMT53:
Knows the seven categories of Additive Manufacturing
Understands the work flow in a professional design & manufacturing environment, from CAD model to finished printed part
Understands and appreciates real-world contexts for use of additively manufactured parts, from showcasing product prototypes to producing serially-manufactured final parts
Knows the general features of several key AM processes, including FDM, SLS, SLM, SLA, PJP.
Understands materials compatibility with the above processes
Understands working with supports
Understands Design for Additive Manufacturing (DfAM)
In addition to the DMT53 prerequisite, DMT54 also has a prereq for a CAD course at De Anza (or demonstration of basic proficiency). This is critical to students' success in DMT54. Students must come into the class prepared to work with CAD model files from popular packages such as SolidWorks, Creo, Siemens NX, or Autodesk Inventor or Fusion 360. While no CAD work is included in DMT54, many of the software packages we teach in this course build on general familiarity with CAD interfaces. Without prior exposure to such, students will not be ready to work in software environments such as NetFabb or Insight, at the pace required in DMT54.
Future Offerings in AM
Stay tuned as we look to the future and develop more 3D Printing / Additive Manufacturing curriculum to meet the educational and training needs of this fast growing industry sector.
DMT 56 - AM Support Technician Operator
DMT 57 - DfAM
Forthcoming AM Certificate
Since 1984, the CAD program has evolved to meet the changing needs of the local Silicon Valley engineering and design firms. More than 12,000 students and professionals have been trained in our CTE programs over the decades. We integrated our first 3D Systems Printer into our advanced CAD Surfacing design classes in 1996. All of our Additive Manufacturing (AM) courses use professional grade equipment and are taught by seasoned industry experts. Come learn current techniques of Digital Manufacturing at De Anza College with our industry experts.
---
Interested in joining the 3D Printing club at De Anza College. Please contact CAD@DeAnza.edu
More info at the 3D Printing club web page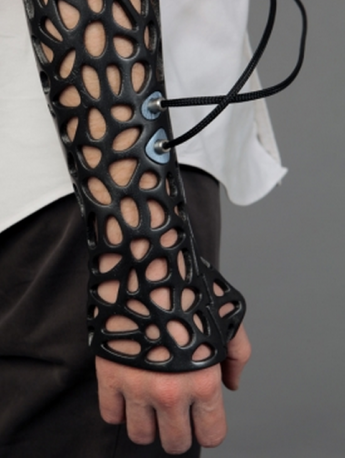 3D Printing/Additive Manufacturing Market Trends. Will you be ready for the future job market?
AM Equipment
Related equipment:
Professional Application software :
CAD/3D Printing Lab: E35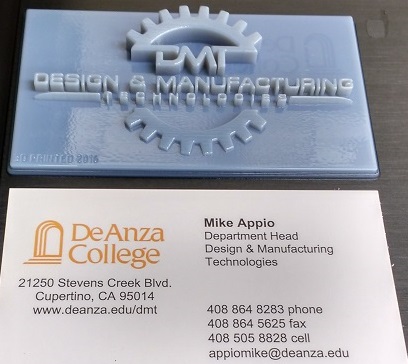 Please join our email list for info about classes. CAD@DeAnza.edu
Join us on

De Anza College 3D Printing/Additive Manufacturing Group
---
3D Summer Academy at De Anza College 2019