2013-14 Academic Year
---
Donation Funds Audrey Edna Butcher Civil Liberties Education Initiative
The California History Center at De Anza College received a very special gift in December 2013: a generous donation by community member Margaret Butcher to establish, in honor of her mother, the Audrey Edna Butcher Civil Liberties Education Initiative. The gift will also help ensure the ongoing operation and long-term sustainability of the CHC.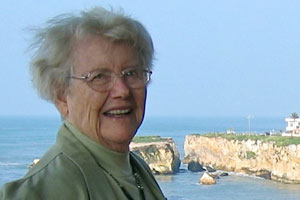 Audrey Butcher was an area grammar school teacher during World War II. She witnessed the disappearance of numerous students from her classroom as they and their families were forced, with thousands of other Japanese American citizens, into isolated internment camps along the West Coast.
Audrey never forgot her students and their unconstitutional detainment in the camps, committing herself to educating others on history and the importance of civil liberties.
At a Day of Remembrance event more than half a century after the war, she urged De Anza College students to "never let this happen again" to anyone. She died in December 2012.
Margaret Butcher donated the funds in her mother's memory in order to provide De Anza students, faculty and community members with resources and partnership opportunities, both on and off campus, focusing on the protection of civil liberties. Following in the footsteps of her mother, Margaret is a longtime teacher.
"I am well pleased in the form this gift has taken," she said. "It combines my mother's and my beliefs in the importance of history, civil liberties, public education, books and in putting your gifts where your heart is in order to develop the gifts of others."
"This is a truly phenomenal gift," said CHC director Tom Izu. "It provides us with an opportunity to develop creative programming on the civil liberties so critical to our society. In addition, the gift breathes new life into the California History Center."
The donation will bolster the CHC's long-term sustainability efforts by adding support services and expanding and maintaining the library and archives. Audrey Butcher was a stalwart supporter of public education and the preservation of California history, serving on the CHC Board of Trustees from 1988 to 1994. As an adult, she took classes at Foothill and De Anza colleges, which Margaret and her two siblings also attended.
"I'm encouraged to see the California History Center continue and grow as a part of De Anza College," Margaret Butcher said. "There is a lot more we are teaching and are taught than simply the subject matter of our curriculum. We are entrusted with the education of excellent citizens who understand and can defend the importance of civil liberties."
"At De Anza College, we focus on educating the whole student, with a clear emphasis on social responsibility and community and civic engagement," said De Anza College President Brian Murphy. "Ms. Butcher's gift to the California History Center ensures that her mother's legacy will be students and community members better educated in the wrongs of the past, and the preservation of civil liberties now and in the future."
Margaret Butcher, and the memory of Audrey Butcher, were honored at a reception in the California History Center from 3:30 to 5 p.m. on Wednesday, Feb. 19.
The event featured remarks from U.S. Rep. Mike Honda (17th Congressional District) who as a small child was detained with his family in an internment camp. Music was provided by Emmy-winning composer Mark Izu. The event also included exhibits from the CHC library and archives and a student project from the Euphrat Museum of Art on human and civil rights.
The reception followed De Anza College's annual Day of Remembrance event marking the internment, which was held in Campus Center Conference Rooms A&B from 1:30-3 p.m.
---
National Figure in Education, Humanities to Deliver Commencement Speech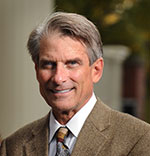 William D. "Bro" Adams, the retiring president of Colby College in Maine, has served in that role since 2000. From 1995 to 2000, he was president of Bucknell University in Pennsylvania and previously served as a vice president of Connecticut's Wesleyan University. Earlier in his career, Adams was an instructor and program coordinator for the Great Works in Western Culture Program at Stanford University. He was also an instructor at Stanford and a visiting assistant professor in the political science departments of the University of North Carolina at Chapel Hill and Santa Clara University.
Adams served in the Army during the Vietnam War and was awarded the Bronze Star, among other honors. In 1977, he received a Fulbright Fellowship and conducted research at the École des Hautes Études en Sciences Sociales and École Normale Supérieure in Paris. Adams earned a bachelor's degree summa cum laude in philosophy from Colorado College and a doctorate degree in political philosophy from the University of California, Santa Cruz.
He has served on a variety of nonprofit boards and published on topics of philosophy, culture, personal memoir and higher education. He is known as a dedicated supporter of the liberal arts. In addition to his focus on the humanities, Adams has advocated for higher education access and funding for middle class and all students.
---
Student Awards & Scholarships
Ben Pacho, President's Award
In his time at De Anza, Ben Pacho discovered his passion for activism and social justice.
"I became politicized through my experience of being a first-generation college student," Pacho said. "It became evident that struggles for socioeconomic betterment are political in nature."
In his quest to support change on-campus, Pacho has served as the DASB Chair of Student Services and Opinions Editor at La Voz. He interned at the Institute of Community and Civic Engagement and participated in the Public Policy School.
"I was not at all the kind of person to get 'involved'," said Pacho. "But after checking stuff out and meeting awesome people, I realized that I was part of a larger community."
Off-campus, Pacho volunteered at the Billy DeFrank LGBT Center and the Living Wage Campaign to raise San Jose's minimum wage. The campaign was highly personal for Pacho, as he sometimes struggled to find enough work to put himself through college.
"I was determined to make life easier for working students like myself by advocating for the Living Wage Campaign," he added.
Pacho is graduating with an associate degree in journalism and the Leadership and Social Change certificate. In the fall, he will study political science at Columbia University in New York City. With his degree and experience, he hopes to one day influence public policy at the state and national level by advocating for educational and environmental issues. Although Pacho is moving across the country, he will always have fond memories of De Anza.
"The 'Inequality for All' film showing this year with the amazing panel discussion brought my affection for this campus to another level," Pacho said. "It highlighted the extent to which students, faculty and administrators at De Anza are committed to bringing about social change."
---
Nicole Canete, Dehart Memorial Scholarship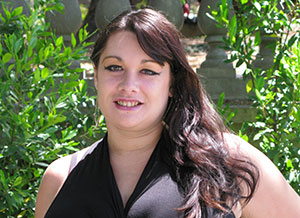 Nicole Canete has spent her time at De Anza encouraging others to turn negative experiences into a strong and positive future. When she transfers to UC Berkeley in the fall, she will major in psychology and use those skills to continue helping people find their inner strength.
"Psychology is not a skill that is just used in one particular place, but rather it is used every day and in every relationship," Canete said. "Psychology has helped me to better understand myself as well as others around me."
Canete has participated in many clubs and activities on and off-campus. She is a tutor, volunteer babysitter for families in need and a volunteer at the Rape Crisis Center. She is the media/public relations officer of the Psychology Club and a member of Cross Cultural Partners, LGBTQIA Club and the Honors Club. She is also an assistant coach of the school cheer and dance team.
"Dancing was a passion of mine which helped me through some hard times," Canete added. "I believe that everyone needs an outlet and dancing was and still is mine."
Canete wants to help victims of rape and abuse find their own outlets for expression. She plans to attend graduate school to earn a joint Ph.D./J.D. degree. She also wants to start a camp where abuse victims can heal themselves through music, dance and art.
"The most important thing is to never give up on yourself," Canete said. "Be your biggest fan and others will soon follow suit."
---
Tram Pham, Karl S. Pister Leadership Opportunity Program Award
Tram Pham has always tried to make her family proud.
"I take my responsibility as the oldest child very seriously," Pham said. "I'm the first child to go to college and a role model for my brothers."
Pham's road to college was not an easy one. Her family emigrated from Vietnam five years ago, and she has had to balance work with school and community service. Her hard work will be rewarded when she receives her associate degree in Liberal Arts with an emphasis on Social and Behavioral Sciences. Pham will study psychology at UC Santa Cruz in fall.
"Through psychology, I can help individuals understand their meaning of life and solve their life problems," said Pham. "I want to improve the lives of underserved students and help them excel in scholarship, leadership and service perspectives."
At De Anza, Pham's interest in counseling led her to the Peer United to Learn through Scholarly Exchange (PULSE) Peer Mentor program where she mentored First Year Experience and immigrant students. She has served as vice president of College Projects and vice president of Scholarships for the Alpha Sigma Alpha chapter of the Phi Theta Kappa Honor Society, coordinated workshops for Youth Voices United for Change and participated in many campus activities. Pham also taught Vietnamese to elementary school children at her Catholic Church every weekend.
"All of my leadership experience and community service helped me grow remarkably and become a better person," Pham added. "Everything I have done has encouraged me to remain self-confident and strive for successes."
As she begins a new chapter, Pham encourages other students to make the most of their time at De Anza – join clubs, do community service, study hard and support one another.
"I am proud to say that De Anza College was my second home where I have found so much support," said Pham. "Sometimes, life is full of challenges and hardships, but all you have to do is keep going forward."