Meet the 2022 Award Winners
Every year, hundreds of De Anza students earn well-deserved scholarships, commendations and awards – and we're proud of each one. Here are some of our major award recipients for 2022.
---
President's Award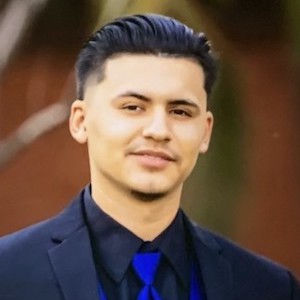 David Lechuga
---
President's Award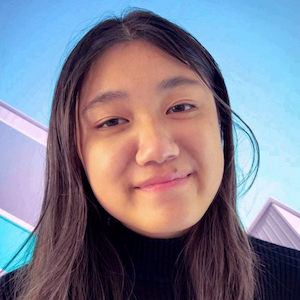 Rose Lu
---
DeHart Scholarship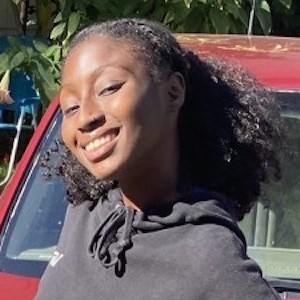 Aminata Kofuma-Henry
Meet Our Graduation Speaker!
This year's student Grad Speaker will be
Marissa
McGuire, a
first-generation
college student who
found community at De Anza through programs like
LEAD
(Latinx Empowerment at De Anza) and
Guided Pathways
.

David Lechuga: President's Award Recipient
David Lechuga has been running his own business for years – cutting hair for his friends and neighbors, and using the proceeds to help support his family. Now the 20-year-old is ready to take his skills to the next level.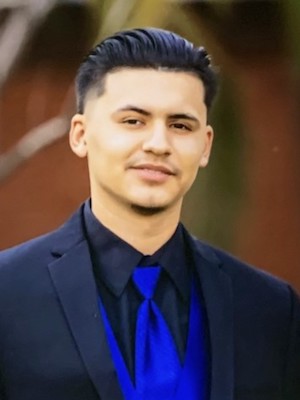 Lechuga, one of two President's Award winners this year, is graduating with an associate degree for transfer in Business Administration and plans to major in the same subject at San José State.
"I really liked marketing myself and managing my own business while being in school," he said, "but I want to work at a bigger company" where there are more opportunities for income and growth.
Lechuga grew up in East San José and came to De Anza after taking college classes at two other community colleges, while still attending high school at Latino College Preparatory Academy. As a first-generation college student, he didn't find much support at the other colleges, he said, but had a much better experience with counselors and instructors in the First Year Experience program at De Anza.
Even when classes were fully online because of COVID-19, Lechuga said the FYE program "really helped me connect with other people and find my way."
Lechuga's earnings as a barber helped pay the family's bills, after his father became ill and was hospitalized with the coronavirus. Despite the pressure, Lechuga said he was determined to earn his degree.
A few years earlier, he had resisted a different kind of pressure from acquaintances who were involved in a gang. Rather than go down that path, Lechuga said he resolved to focus on succeeding in school and honoring his parents, who emigrated from Mexico so he and his sister could have a better life.
His determination to get the most out of his classes was a positive influence on other students, recalled Kristin Skager, who was Lechuga's instructor for two English courses during his first year at De Anza.
"He just has this calmness about him. He really listens. He's a hard worker and he's very focused, without being pushy about it," said Skager, now acting dean of Language Arts.
For now, Lechuga is still cutting hair part-time. "A lot of my clients are high school students," he said with a smile. "I tell them to come to De Anza."
---

Rose Lu: President's Award Recipient
Going to college was no simple task for Rose Lu, one of two President's Award winners this year. While taking classes over the last two years, she ran an online business and held a series of part-time jobs – including a weekend gig as face-painter and balloon-animal maker at childrens' parties.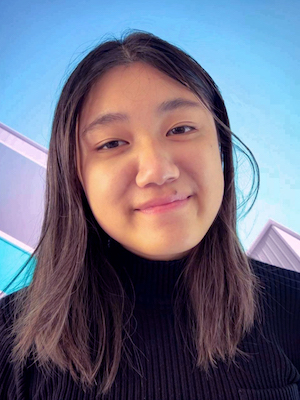 Lu, who is graduating with an associate degree for transfer in Business Administration, will be taking a break this summer before transferring to the University of California, Berkeley. She plans to continue studying business there.
A first-generation college student, Lu said the COVID-19 pandemic and the closure of her parents' restaurant left her with a pressing need to help support her family while going to school.
"I realized I needed to make money, so maybe business was a good major for me," she said.
While working part-time in retail and other jobs, Lu researched online businesses and decided to start selling digital merchandise for online games. The income was enough to help her family pay off bills while her father took job training classes.
The demands of working and helping her family were stressful, Lu said, but the experience gave her confidence in her abilities.
Like many in the class of 2022, Lu came to De Anza when the college was operating primarily online because of the pandemic. Online classes gave her more flexibility to work, she said, "but it's really hard to get to know people."
Fortunately, she said, joining the IMPACT AAPI Learning Community gave her an opportunity to connect with other students and faculty members. For a time, she worked as an administrative assistant for program counselor Amy Wang, helping to organize events and activities. Wang said Lu was dedicated to supporting her fellow students.
"Rose is one of the kindest, most compassionate students I have had the pleasure of working with," Wang added.
Lu also interned with De Anza's Public Policy School, where she learned about lobbying and advocacy, and later with Assemblyman Alex Lee, D-San Jose, which gave her more exposure to politics and public service.
The experience left her interested in government and policy, Lu said. But for now, she said she's focused on getting a business degree and working toward financial stability for herself and her family.
---

Aminata Kofuma-Henry: DeHart Scholarship Recipient
It was one of those "middle-of-the-night" ideas for Aminata Kofuma-Henry – or Ami to her friends. She had been thinking last fall about ways to engage and motivate members of the newly re-established Black Student Union at De Anza, when she decided to try organizing a clothing drive for homeless and low-income residents of San José.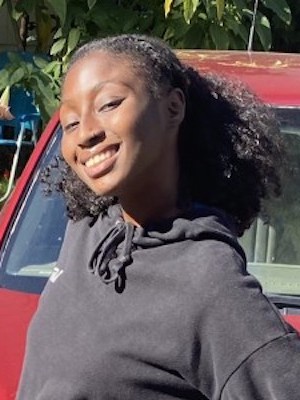 Within a few weeks, Kofuma-Henry and fellow BSU members had raised more than $2,000 to buy jackets, hats, toiletries and other items, which they distributed with the help of the B.L.A.C.K. Outreach community organization. As BSU president, Kofuma-Henry even made a pitch for support during a collegewide Zoom session hosted by President Lloyd Holmes and his senior staff.
"It was hard work, but it was a good learning experience," she said of the project.
Kofuma-Henry, this year's winner of the DeHart Scholarship for service to the college community, enjoys helping others. She's worked as a counselor for YMCA youth programs, and will earn an associate degree for transfer in Psychology this summer. She plans to study psychology and child development at Sacramento State University this fall.
Her goal is to become a therapist and, in particular, provide children and young adults with opportunities to seek help from someone who looks like them and understands some of the issues they face. "Mental health can be a taboo topic in the Black community," she said. "I want to get rid of that stigma."
Kofuma-Henry, 20, said it was helpful to speak with a therapist after a close friend's death left her struggling to focus during her first year at De Anza. She also found direction by joining the Umoja Learning Community and then the Black Student Union. She credits counselors Maurice Canyon and Glynn Wallis, co-advisers to the BSU, with keeping her on track toward her goals.
"She has great leadership skills," Canyon said, describing Kofuma-Henry as both dependable and courageous. "She really jumped in there and helped keep the BSU going, even through adversity" during the COVID-19 pandemic.
Kofuma-Henry's efforts also drew recognition from De Anza's Equity Action Council, which named her one of this year's Equity Champions.
Attending college online during the pandemic posed many challenges, Kofuma-Henry acknowledged. Her advice to other students? "Don't give up. There are so many people at De Anza who are willing to help you, so don't be afraid to ask."
---