Meet Our 2022 Student Grad Speaker
Student Award Winners
Visit the
Graduation Awards
webpage for stories and photos of the
President's Award
and
DeHart Scholarship
recipients – three more outstanding students whose accomplishments will be recognized at this year's
commencement ceremony
!
Marissa McGuire: Pister Award Recipient
Like many of this year's graduates, Marissa McGuire didn't spend much time on the De Anza campus over the last two years. The combination of a global pandemic and a long commute meant she took most of her classes online.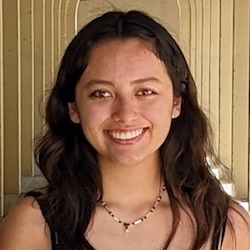 But McGuire, 20, still found a rich community at the college, through programs like LEAD (Latinx Empowerment at De Anza), Math Performance Success and Guided Pathways.
"Being online for classes kind of pushed me to do more things that I might not have done," said McGuire, who plunged into college life and found new ways to make friends as she earned her associate degree for transfer in Psychology.
She plans to continue studying Psychology when she transfers next year to the University of California, Santa Cruz, with help from the Pister Leadership Award – a major scholarship given each year to a student transferring from De Anza College. She wants to attend graduate school and become a psychologist.
A first-generation college student, McGuire lives in a small community outside Silicon Valley. She had very few Latinx classmates in high school, so she was excited to discover De Anza's LEAD program, where she forged strong bonds with Latinx students and instructors. Inspired by an "amazing" LEAD student mentor, McGuire became a mentor herself – helping other students stay connected and engaged in their classes.
McGuire also enrolled in Math Performance Success, where she found more support from instructors and a counselor, Melissa Maturino, who helped McGuire become more comfortable with a subject that had always been difficult for her.
During her second year, McGuire joined the Guided Pathways initiative, serving as a student adviser to the interdisciplinary groups developing new Villages for students with related majors, and addressing obstacles that make it harder for students to reach their goals.
As part of that work, she found herself moderating online discussions attended by students, faculty members and senior administrators. She found it daunting at first, but the practice helped her overcome her trepidation about public speaking.
"She's always the first one to step up and volunteer for something, even if it requires a lot of work or courage," said Diana Alves de Lima, faculty co-director of the Student Success Center, who came to know McGuire through the Guided Pathways Student Working Advisory Group.
McGuire came to De Anza because her older sister attended a few years ago, after researching colleges and deciding it was the best place to prepare for transferring to a university.
"Community college is a great place to figure out what you want to do," McGuire said. "De Anza has so many resources, so many programs and so many people you can reach out to for help."
---