Welcome to the MSTRC

We offer peer tutoring and workshops to help you succeed in your math, science and engineering courses. Scroll down to learn more about our programs and services.
Celebrating Black History Month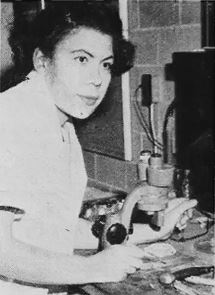 Margaret S. Collins was the first African American female entomologist in the United States. She was a child prodigy, professor, and activist. Nicknamed the "Termite Lady" due to her research on termites, she specialized in the insects of Guyana and Florida. In 1989, Collins discovered a new species of termite, the Florida damp wood termite (Neotermes luykxi), with her colleague David Nickle.
Join Us On-Campus or Online via Zoom for Winter 2023 Tutoring!
Online tutoring via Zoom starts week two Monday through Friday. In-person tutoring in the MSTRC (S43) starts week two on Tuesdays and Wednesdays. We will be closed for holidays on January 16th, February 17th, and February 20th.
Access online math and science peer tutoring services Monday-Friday from 10/17 to 3/24 via Zoom by clicking the "JOIN ONLINE ZOOM TUTORING" button below.
Access in-person peer tutoring Tuesdays & Wednesdays at the MSTRC in room S43.
Access 24/7 tutoring (for most subjects) via the SSC provided online tutoring vendors by following instructions found at Online Tutoring.
Winter 2023 Schedule
In-Person Peer Tutoring in S43
Tuesday 9:00 am to 6:00 pm
Wednesday 9:00 am to 6:00 pm
Online Peer Tutoring via Zoom
Monday 9:00 am to 6:00 pm
Tuesday 9:00 am to 6:00 pm
Wednesday 9:00 am to 6:00 pm
Thursday 9:00 am to 6:00 pm
Friday 9:00 am to 12:30 pm
Our Programs and Services
Tutoring Subjects
Math
Physics
Chemistry
Biology
Engineering
Services Offered
Learn More About
---
Become a Tutor!
You can improve your own skills in communication and your favorite academic subjects by helping other students learn. We provide training – and it's fun!
---
Questions? Contact Us!
Helen Nguyen, Instructional Support Coordinator
408.864.8681, nguyenhelen@deanza.edu
Derek Mitchler, Instructional Support Coordinator
408.864.8879, mitchlerderek@deanza.edu
Alejandra Rueda, Instructional Support Coordinator
408.864.5310, ruedaguerreroalejandra@deanza.edu
Melissa Aguilar, Student Success Center Co-Director
408.864.5422, aguilarmelissa@deanza.edu
Diana Alves de Lima, Student Success Center Co-Director
408.864.8485, alvesdelimadiana@deanza.edu